Disinfection Services in Iowa Colony, Texas

Are you concerned about the spread of sickness due to a virus in your company? Many businesses have been calling System4 of Houston to learn more about obtaining services to prevent the spread of all types of viruses in Texas offices, schools, and other places of business. System4 of Houston specializes in complete commercial cleaning services including disinfection of surfaces to kill bacteria and viruses using the trusted and proven process with MicroShield 360 applications. MicroShield 360 helps to promote a healthy and safe working environment for employees and guests.
★★★★★
"Hello, I am Dianglio Baylor, Director of Corporate Relations and Communications for Dupure. Recently, my office experienced a possible threat of Covid-19 within our office and needed to have this issue addressed immediately. We called on System 4 and they addressed our needs immediately, efficiently and effectively. A few months prior, I met with Justin, Vice President of System 4 to get a quote for our facility. Justin provided a very detailed and professional presentation of their offerings and services. System 4 has the capacity to handle all of your facility needs and their pricing can't be beat! I would recommend this company! They are 5 Star!"
- Diangilo B., Disinfection Services in Houston, TX
---
Call for a FREE Quote
---
Disinfection Services in Iowa Colony Removes Bacteria and Viruses
The patented process and chemical solution presented by MicroShield 360 and executed by the team at System4 of Houston is designed to remove harmful bacteria and viruses from the surfaces of commercial buildings and keep them disinfected 24/7 between cleanings.
Disinfection Services That Eliminate Odors in Iowa Colony
When smelly odors and harmful mold and bacteria wreak havoc on your building, it's imperative to find a permanent solution to the problem, not just a temporary fix or cover-up only to return again. System4 is certified to utilize the exclusive MicroShield 360 system that goes hand in hand with your current cleaning regimen to get rid of odors in Iowa Colony buildings, prevent mold growth, and reduce bacteria.
The System4 of Houston Difference for Iowa Colony Disinfection Services
When your office environment demands superior commercial cleaning services in Iowa Colony and disinfection of contact surfaces, System4 of Houston is the company that can get it done. Unlike traditional cleaning, the MicroShield 360 coating system used by System4 of Houston works 24/7 to protect your facility from unwanted odors and completely eliminate mold and bacteria - saving you time and money! Call (713) 564-0130 to learn more.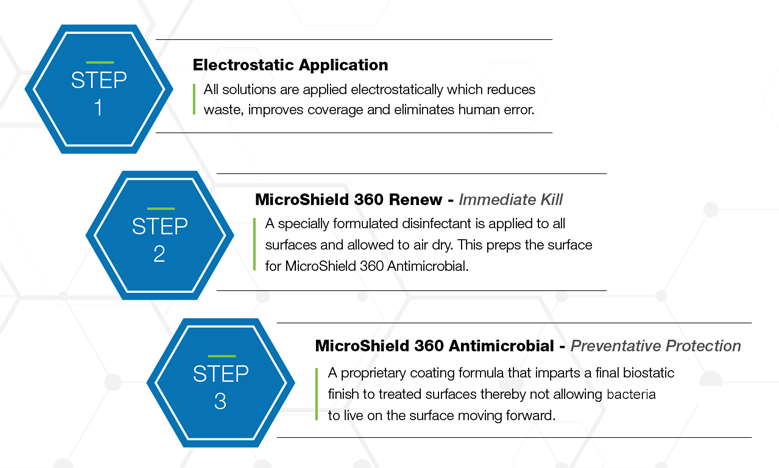 System4 Houston is an authorized dealer of MicroShield 360 >>
---
Free Disinfection Quotes
---
For more information on recommended precautions for preventing the spread of viruses, visit the CDC website here: https://www.cdc.gov/coronavirus/2019-ncov/index.html
---
Free Estimates on Facility Service Solutions
---
WHAT CUSTOMERS ARE SAYING:
5★★★★★ - "Hello, I am Dianglio Baylor, Director of Corporate Relations and Communications for Dupure. Recently, my office experienced a possible threat of Covid-19 within our office and needed to have this issue addressed immediately. We called on System 4 and they addressed our needs immediately, efficiently and effectively. A few months prior, I met with Justin, Vice President of System 4 to get a quote for our facility. Justin provided a very detailed and professional presentation of their offerings and services. System 4 has the capacity to handle all of your facility needs and their pricing can't be beat! I would recommend this company! They are 5 Star!"

Diangilo B., Disinfection Services in Houston, TX

2020-11-09

5★★★★★ - "Excellent service, highly recommended. They cleaned my office recently, I will continue using their services."

Nikka C, Office Cleaning in Houston, TX

2022-03-07

5★★★★★ - "Great experience with janitorial and maintenance services. They've made the process of facility management simple. Highly recommend."

Paul C, Janitorial Services in Houston, TX

2022-03-07

5★★★★★

Jessenia C., Cleaning Service in Houston, TX

2019-10-16

5★★★★★ - "System 4 did a special carpet cleaning job for an office that I own in Sugarland. The staff was professional and they did a fantastic job. Even the darker spots came out! I would recommend them to anyone with commercial cleaning needs."

Bryan C., Commercial Cleaning in Sugar Land, TX

2019-10-16

5★★★★★ - "The best Cleaning Company in Houston.. Currently services all my locations."

M3powertech, Commercial Cleaning in Houston, TX

2019-10-16
---
Free Estimates on Facility Service Solutions
---