Financial Center Cleaning
Banks, Credit Unions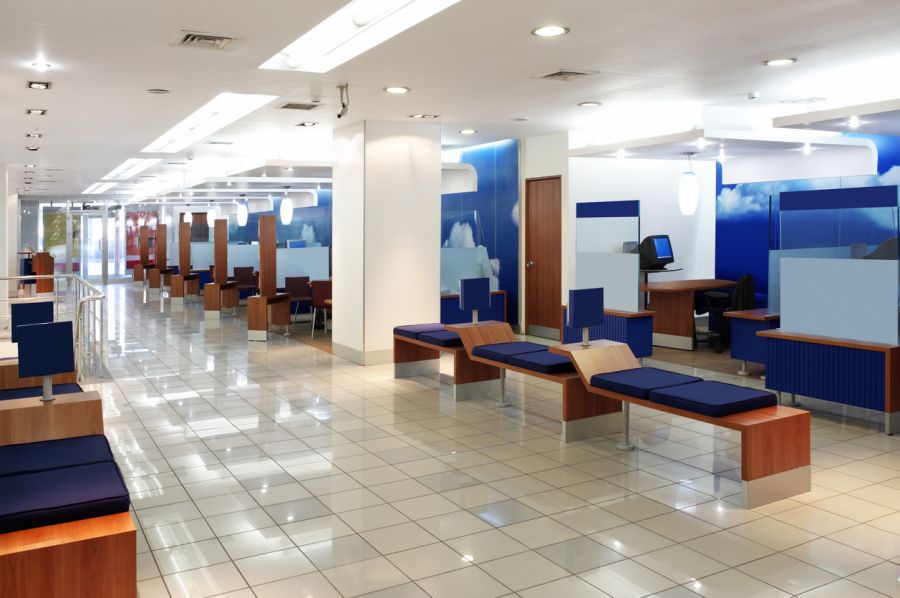 Financial centers are hubs of economic activity, and they require a high level of cleanliness to ensure the safety and security of their customers. Cleaning services are essential for keeping financial centers free from dirt, dust, and other contaminants that could compromise the environment. Having your bank or credit union regularly cleaned and maintained improves the overall appearance and impression of your facility, making it more inviting and attractive to potential customers. System4 of Houston provides high-quality, comprehensive cleaning services for financial cleaning centers throughout the area. Call us today for a free estimate.
---
Call for a FREE Quote
---
System4 of Houston's Financial Center Cleaning Process
Cleaning financial centers is a necessary part of maintaining a safe and secure environment. When it comes to successfully cleaning financial centers, it is important to follow the proper protocols. It is important to keep banks and credit unions alike clean and organized to prevent the spread of germs and other contaminants that can cause illness or injury. System4 of Houston follows a thorough cleaning process to ensure customers and staff remain healthy, safe, and secure:
Carpet Cleaning – Vacuuming, shampooing, and deep cleaning of carpets and upholstery.
Window Cleaning – Washing, polishing, and buffing of interior and exterior windows.
Floor Care – Mopping, buffing, and polishing of hard surface floors.
Bathroom Cleaning – Disinfecting and sanitizing all surfaces in the restroom.
Dusting – Cleaning of all surfaces, including furniture, fixtures, and blinds.
Trash Removal – Removal of all garbage and debris from the premises.
Pressure Washing – Removal of dirt, grime, and other debris from the exterior of the bank or credit union.
Benefits of Choosing System4 of Houston
Cost-effectiveness: System4 of Houston is committed to providing cost-effective solutions for cleaning financial centers. Our services are tailored to meet the needs of the financial industry, ensuring that all areas are properly cleaned and maintained.
Professionalism: Our team of professionals is highly trained and dedicated to providing the highest quality of service. We take pride in our work and strive to exceed customer expectations.
Eco-friendly: System4 of Houston uses eco-friendly cleaning products and practices, helping to reduce the environmental impact of financial center cleaning.
Flexible scheduling: System4 of Houston offers flexible scheduling options, making it easy for customers to arrange for their cleaning needs.
Customized services: System4 of Houston provides customized services to meet the specific needs of each customer.
Safety: We take safety seriously and use only the highest quality cleaning products and equipment to ensure the safety of your staff and customers. We are also certified to use green cleaning products to further protect the environment.
Flexibility: We understand that financial centers have different needs and requirements when it comes to cleaning. We are able to provide customized cleaning solutions that meet the unique needs of your financial center.
Reliability: We understand the importance of reliability when it comes to cleaning financial centers. We are committed to providing the highest level of service, and our team is available 24/7 to ensure that all areas of your financial center are kept clean and maintained.
---
Free Estimates on Facility Service Solutions
---